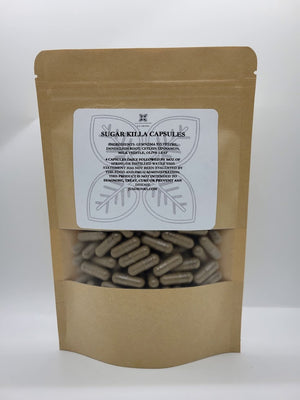 Sugar Killa - The herbs in this mix addresses the pancreas and blood sugar levels. Sugar killa also helps with lowering glucose levels, antioxidants, cholesterol, boosting the immune system, vitamins & addressing diarrhea. 
Herbs: Gymnema Sylvestre, Dandelion Root, Ceylon Cinnamon, Milk Thistle, Olive Leaf.
Gymnema Sylvestre – Reduces blood sugar levels, regenerates beta cells in the pancreas.
Dandelion Root – Detoxifies the liver and increases bile formation by removing toxins and keeping the liver clean, helps improve digestion, removes toxins through sweating and urination, energizes the pancreas to produce insulin and regulates blood sugar levels. 
Ceylon Cinnamon - Antioxidant, antibacterial, antifungal, antiviral, antimicrobial & stabilizes blood sugar levels. 
Milk Thistle – detoxifies, guards and promotes the regeneration of liver cells, strengthens the immune system and controls blood sugar levels. 
Olive Leaf – Removes cholesterol from the blood, control blood pressure, production of the chemical adiponectin which burns fat from the body, rich in antioxidants. 
Replacement Due To Damage: Please take a photo of damaged item/items with order number and send via email to Jusdrinks2017@gmail.com. Once received a replacement will be shipped to you. 

*DO NOT TAKE WHILE PREGNANT OR BREASTFEEDING* 
I love everything he makes!
These pills are very helpful in the detox process. I advise anyone to try these. Great products he has!
Gut health
These capsules are great, you notice them working immediately. These will go a long way in helping me improve my gut health and getting rid of bad bacteria in my body
Clean your insides
This mixture assists with removing parasites from the body, if you pay close attention to your bowl movements, you can see the parasites exiting the body. Amazing ingredients in this mix that assist with various Healing benefits. Must try.