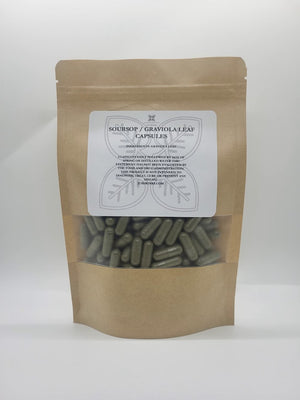 Soursop/Graviola Leaf Capsules
Soursop/Graviola leaf capsules - Aborigine to Central America. Antiviral, antiparasitic, antirheumatic (arthritis and other conditions that affect joints, tendons, muscles, ligaments bones and muscles), astringent, emetic (anything that makes one feel sick), anitleishmanial (parasite that causes leishmanial( fever, weight loss, enlarges spleen, liver and abnormal blood test)), cytotoxic, anti-inflammatory, anti-hyperglycemic.
Ingredients: Soursop/Graviola leaf.
Replacement Due To Damage: Please take a photo of damaged item/items with order number and send via email to Jusdrinks2017@gmail.com. Once received a replacement will be shipped to you. 
Medicinal Effects
The ingredients speak for themselves. Great medicinal effects.
Love the products
I been ordering for over 2 years and have zero Complaints. Always arrive on time and products are great and when I reach out with a question, always super helpful.