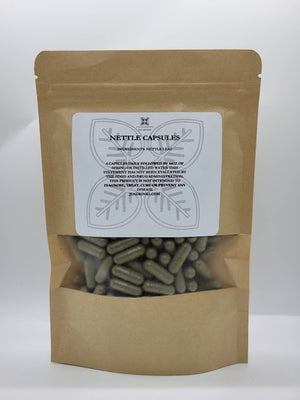 Nettle leaf is aborigine to Asia, Europe & America. Great for skin issues such as eczema, acne, burns. these are just a few of the properties that nettle is known to help with.
Nettle Leaf - Kidney stones, anticancer, diuretic, anemia, blood purification, prostate enlargement, brittle nails, urinary tract infection, breast milk insufficient, kidney and liver health, dandruff, blood detox & blood circulation. 

Replacement Due To Damage: Please take a photo of damaged item/items with order number and send via email to Jusdrinks2017@gmail.com. Once received a replacement will be shipped to you. 
Thank youuu
I took the pills everyday for 2 weeks. The very first day my knee pain stopped. I've been walking on my feet all day since, in and out of the house, doing all My house chores, taking care of My husband and grandchildren. All I can Say is thank you. It's been a few days since I stopped taking them and still no pain. I plan on continue taking them next week.
Nettle Capsules Daily
My skin has been tighter, glowing, more strong, my immune system, kidneys, lungs and blood feel great and clean, Locs are thriving and flowing. I look forward to consuming these healing herb capsules daily. Peace, Love and Healings.